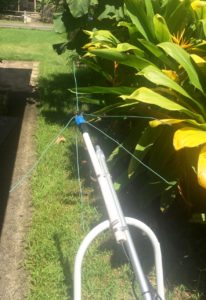 Because of the move from Laie to Hau'ula a couple of weeks ago, I had to take down my antennas and put them back up again in the new location. The first antenna to go back up and into operation is a 2 meter ground plane antenna.
I took the original idea for the antenna from an article on hamuniverse.com. I bought some 14 gauge bar wire and some small bolts and nuts from Lowe's along with 25′ of RG58 coax and an SO239 panel adaptor from Radio Shack. I built it as described in the link.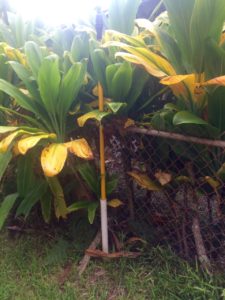 I threaded the coax up through a two foot section of 1″ PVC pipe from Ace Hardware. I used Gorilla Duct Tape (also from Ace) to hold the SO239 down on the top of the PVC pipe. Since the coax has PL259 connectors on either end, it mated up very nicely with the ground plane antenna.
The PVC pipe is attached to a 12′ painter pole that I bought at Lowe's for this purpose. I drove a 1 3/4″ piece of PVC pipe (also from Ace) into the ground so that about 18″ were above the ground and stuck the bottom of the painter pole into the PVC pipe and the attached the pole to the fence. It has very low wind loading and has stood quite firm during the recent tropical storm that came through.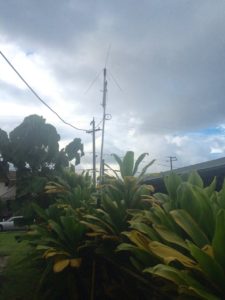 This antenna is one of four antennas going up at my new address in Hau'ula. This antenna is connected to a Motorola 2 meter radio operating simplex on 147.450 Mhz attached to the AllStar network via a Raspberry Pi. See the AllStar category for information on that setup. The antenna has been an excellent performer. Together with the 20 watts output from the Motorola radio, I have excellent coverage throughout the Hau'ula and Laie area.